Hold it! Are those cheap colored contacts friendly to your eyes? Note that contact lenses interact with two of the most delicate parts of your body. The wrong items will bring much damage to your eyes, and yes, they might make you go blind. Many contact lenses are available in thousands of tempting varieties, even glowing versions. If you don't see a guarantee that they're safe, there's a large chance that they aren't. To avoid unpleasant occurrences, this list only includes contact lenses that are safe and legit. Another thing though, the brands mentioned here are relatively safer than the unnamed and unlicensed contact lenses. This does not mean you can put on any of these products without encountering any risk. Ideally, you should see your eye doctor and ask whether contacts are okay for you. Some individuals are not suitable to wear these due to eye problems and other health conditions. The doc will examine your eyes and perform measurements to tell you what kinds of lenses are fine for you. When the consultation's done, you may then choose appropriate products from any of these great brands.
10. Impressions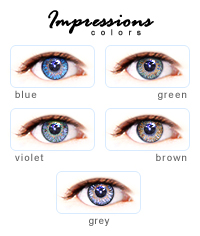 Impression contact lenses are simple yet striking like gemstones. They are bigger than normal to increase the attractiveness of the eyes. Wearers say that they're moist enough to be comfortably used for an entire day. These lenses are usually changed every three or six months depending on the product bought. Some of these items also help those with vision difficulties aside from enhancing the eyes' appeal. They have 5 hues – brown, blue, green, violet and grey, which are tastefully outlined by dark streaks.
9. Venus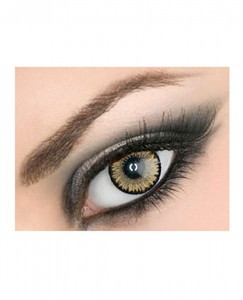 Venus contacts are more than beauty accessories for the eyes. They are practical eyewear for those with eyesight problems. If you have those, opt to purchase these corrective lenses that are available in powers from 0 to -7. In terms of design, they are vividly colored and have fine dotted definitions. They can be used by both dark and light colored eyes since their tints complement them equally. There are six nature-inspired options, namely leaf green, ice blue, violet, amber, slate grey, and pacific blue
8. Tru Colour Elite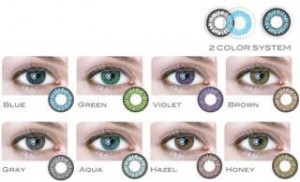 If you notice that colored contact lenses are obviously unreal, you will like TruColour. The color is within the lens itself instead of coating the outside layer, thus it resembles the way the eye is naturally hued. Aside from achieving a lens-free look, you can get it with lens power if you need to. On the downside, it comes in only one diameter size of 14. If this fits your eyes, you may pick the color of your lenses from blue, violet, aqua, green, brown, honey, hazel, or gray.
7. Bella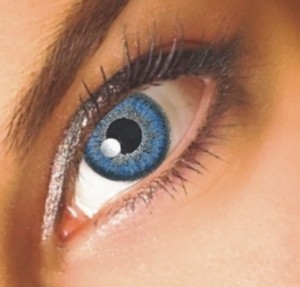 Bella colored contact lenses have no visual adjusting properties and they're only used for modifying eye color. However, these are approved by the FDA so you're safer wearing them compared to untested contact lenses. Their common colors are as follows: platinum grey, chestnut brown, hazel autumn, blue rain, green envy, and violet rose. They also have other varieties that are grouped into natural, brightening, defining, and novel categories.
6. Color Max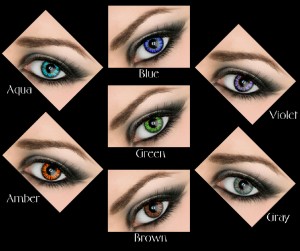 Color Max lenses are packed with color and are more intense than other lenses. They are described as versatile enough to fit both normal and festive occasions. Made with material that mimics the natural wetness of the eyes, they may be worn comfortably from day until night without much eye drying. They may be ordered to contain lens power from 0 to -6 levels. If interested, you may select among seven colors: amber, brown, blue, aqua, green, violet, and grey.
5. Expressions Colors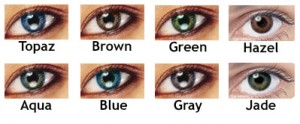 Expressions lenses are the only colored variety among CooperVision's merchandise. They have started since the 80's and have made 16 globally popular products so far. Like the other items, Expressions color may be used as corrective eyewear for near sightedness and farsightedness. These are required to be changed every month to keep the eyes safe from possible wear and tear on the lens. There are eight available colors in all: gray, brown, hazel, aqua, blue, blue topaz, jade, and green.
4. Europa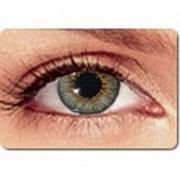 Europa is one of Vision Science's medically approved colored contacts. There are three distinct design sets for these. You can choose them to have two or three tones ranging from brownish, grayish, bluish, greenish, and violet hues. These contacts are mainly used for cosmetic purposes and lasts for three months. If you need contacts with magnification, you may check Vision Science's other items such as Maxim Colors and DuNa Colors, which are both for one day use.
3. Acuvue 2 Colours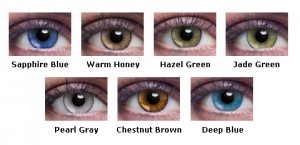 Acuvue is the pioneer of the disposable contact lenses market. This is owned by the company Johnsons & Johnsons. Acuvue 2 Colours is only one of the many products by Acuvue. These colored lenses have features that set them above other lenses, such as nearly total protection from UV radiation, high breathability of the lens, and easy lens handling design. You can obtain it with or without vision correction properties. They have 3 enhancer lenses, which brighten the existing color of the eyes, and 7 opaques, which completely alter the eyes' original color. ,
2. FreshLook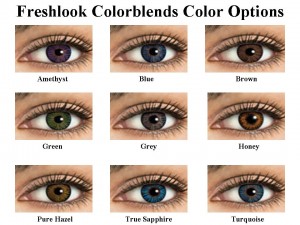 FreshLook is among the highest ranking brands of colored contacts. Their corrective powers have a range of -8 to +6. The lenses have a comprehensive palette of colors. There are three brands under Freshlook that provide colored contact lenses: Freshlook Colors, Freshlook Colorblends, and Freshlook Dimensions. Colors provide a single layer of color, Colorblends have 3 tones, and Dimensions add definition through its solid patterns and clear hues.
1. GEO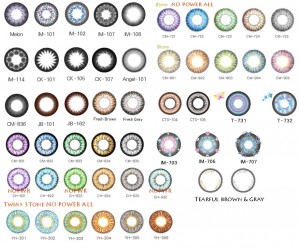 Geo lenses from Korea are recognized internationally. They are approved by the Food and Drug Administrations of Korea, Europe, USA and the world. If you crave variety, you'd have fun with this brand because they have hundreds of lenses with distinct styles. There are more natural looking lenses but most of them are deliberately designed to be eccentric yet attractive. Their basic colors are black, gray, brown, blue, green, turquoise, purple, pink, and red – these are used in fantastic ways to represent stunning eye color.
Incoming search terms: