Halloween is just around the corner!  What makes this season exciting is the fact that this is the one day of the year you can spook other people out with your scariest, weirdest and craziest Halloween makeup ideas. This is our annual hall pass to go all out and express our creativity through various means.
Here are some Halloween makeup ideas that will surely help you kick-start your preparation for that perfect Halloween costume.
Horror Zombie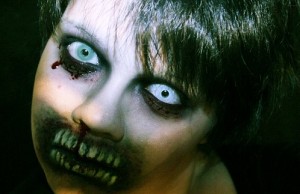 Zombies are timeless, and never go out of style. Pulling off a zombie costume relies mostly on your effective makeup. First of all, you need to liberally apply white face paint to serve as a base, and use black cream and powder makeup to mimic aged skin.
Vampire Vixen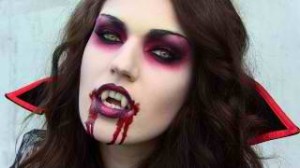 Achieving a vampire vixen look is one of the best Halloween makeup ideas for women. Vampires might be very scary, but they also exude an air of sexiness and confidence. You may boost this look by using lots of eye makeup in hues of silver, black, and violet.
Eerie Ghost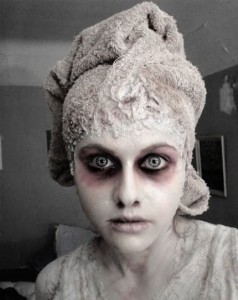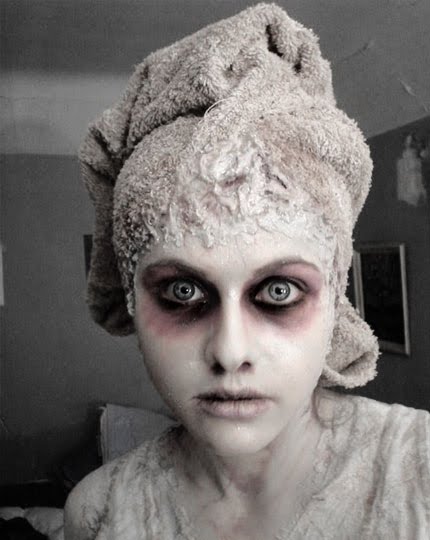 The most important factor in successfully executing the ghost makeup is to find the perfect primer or base that would make your skin look very pale and almost translucent. Next is the eye makeup, which would serve as the focal point. It is advisable to use a palette in shades of gray and black in order to achieve perfect eye circles that would give everyone the creeps.
Zombie Chic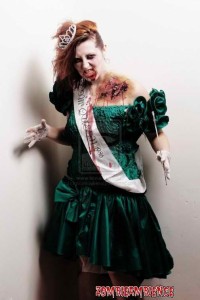 Pull off a scary Halloween makeup without compromising beauty by doing a zombie chic makeup.  To glamorize your look, smoky eye makeup is simply a must, together with subtle circles above and below the eye. For that added oomph, apply a thick layer of mascara for your peepers.
Dark Fairy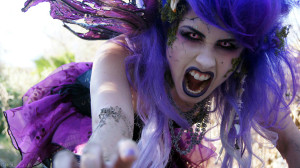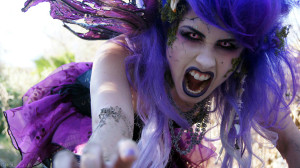 Like the zombie chic makeup, this is a scary makeup idea which is dainty and beautiful at the same time. Haunt the night while painting the town red, by coming as a dark fairy. For this, you will need to have porcelain skin, with heavily made up eyes and black or purple lips that is ready to give the kiss of death at any given moment.
Creepy Nun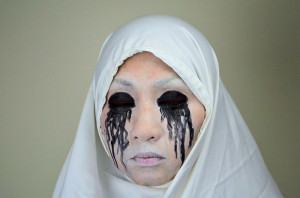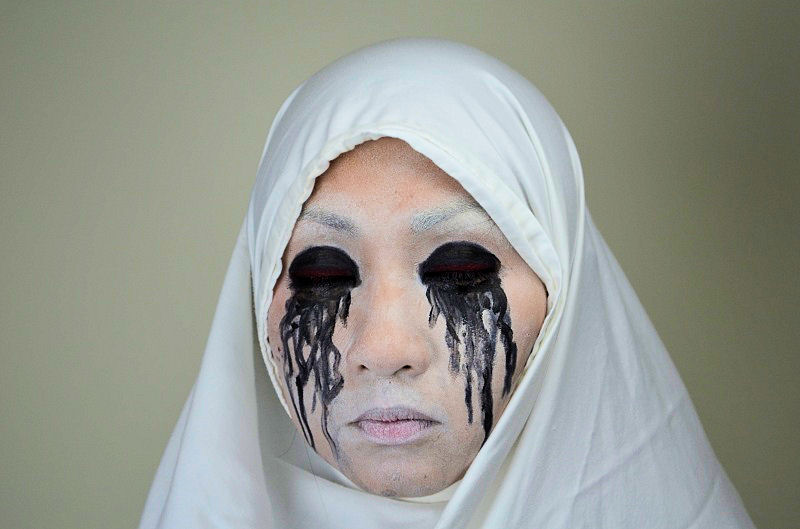 Give the traditional Halloween costume more impact by adding a spooky twist to it. Like the American Horror Story nun, transform your face into a white canvas through the use of face paint, and create wide eye circles and a stream of black tears to take your nun costume from normal to very scary.
Demonized Makeup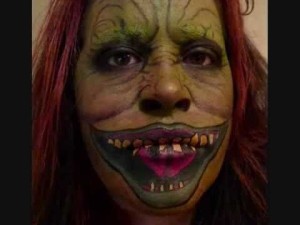 For one night, hide your gorgeous tresses and flawless skin, behind a demonic face. Use a translucent powder to achieve pale skin, and generously apply makeup in shades of black, with red accents.  You may also add a couple of devil horns to complete this look.
Scar Makeup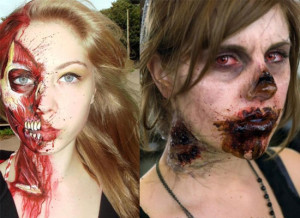 To serve as accents, heavy scar makeup also plays an important part in a Halloween costume. This may be achieved by first creating a bruised base through the use of black and violet makeup, and creating an outline by using black and other dark shades of makeup. If you're feeling extra creative, you may also add stitches, by using adhesives and different types of threads.
Torn Flesh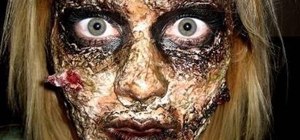 More gruesome than scars, displaying torn flesh as part of your makeup will surely make you the big hit on Halloween night. Just put a significant amount of liquid latex on your skin. Add gashes or lacerations by ripping off parts of the latex by using a toothpick.
Second-degree Burn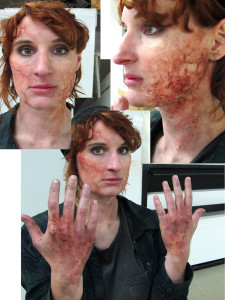 You may apply what prosthetic artists call the "stretch and stipple" technique. You simply need to stretch the skin in the area that you are painting, and apply layers of tissue in between these layers. After several applications, you may rip off the tissue in selected areas, and voila! Instant burnt skin.
Coming up with the perfect Halloween costume need not be expensive. By following the scary Halloween makeup tips above, you may use materials that are available at home or in your local stores. Transform yourself from drab to scarily fab, by simply using these scary makeup ideas.
Which Halloween makeup ideas do you like best?