Any health-conscious eater knows that breakfast is the most important meal of the day. Whatever you eat during breakfast will set your body's sugar and energy levels for the rest of the day. This is especially true for women on-the-go. Eating healthy can be challenging especially if you are someone who loves flavor and variety.
Here are 10 awesome healthy breakfast recipes that will surely make your day:
1. Breakfast Smoothie
If you are the "on-the-go" type but still wish to have a healthy breakfast to start your day, you can make this easy recipe in just a few minutes. Simply mix water, yogurt, ice, a banana, two scoops of oatmeal and a teaspoon of honey in a blender. Press the button and your healthy breakfast smoothie is good to go.
2. Scrambled Eggs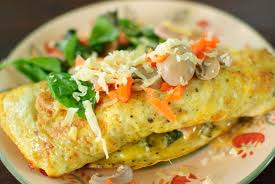 Another quick healthy breakfast recipe you can do is making scrambled eggs. Eggs are a good source of protein. It is easy, nutritious, and it goes well with other ingredients allowing you to whip up different great-tasting omelettes for breakfast. You can try making it with salmon, guacamole and goat cheese. Another favorite is scrambled eggs with tuna and asparagus. Want something simple? Just add a pinch of salt and pepper to the eggs and you have yourself a satisfying meal.
3. Oatmeal Mix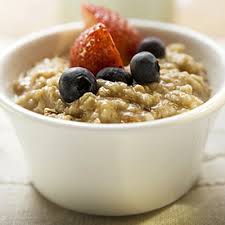 Oatmeal is a good source of fiber and protein. This should be a part of your healthy breakfast recipe. Perk up your oatmeal by adding non-fat milk, honey, and fruit slices like bananas and berries.
4. Healthy Burrito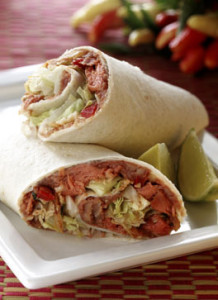 Another healthy breakfast recipe you should try is making a healthy wrap or burrito. You can use a wheat pita bread to wrap up some spicy beans, scrambled egg whites and goat cheese. You can also make a healthy burrito made of chicken or turkey breast slices, vegetables, and sliced avocados. Just be sure that whatever you put in, it should be low or non-fat.
5. Berry Parfait
If you are the kind who loves to start your day with something sweet, you should try making a delicious berry parfait for breakfast. This easy-to-do breakfast recipe is one the favorites among busy women. All you have to do is fill your cup with low fat yogurt. Add your favorite fruit, topped with some nuts, and you have yourself a yummy breakfast treat.
6. Multigrain Waffles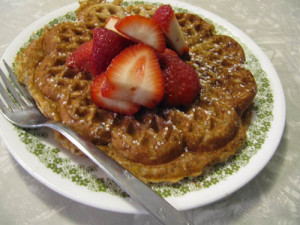 Once in a while you may crave for some waffles. It's a good thing that multi-grain waffles are available in the market. They have less calories, but high in fiber. After cooking the waffles, simply top them with maple syrup or honey. You can also use sugar-free jam or fresh fruit as toppings.
7. Oatmeal Pancakes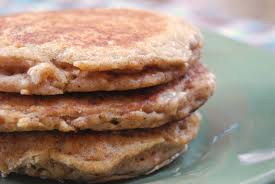 Everyone's breakfast favorite are pancakes, but many had to give them up because they want to eat healthier. There are healthy breakfast recipes available for making oatmeal pancakes. Just like the multigrain waffles, you can create many recipes using your favorite berries and fruits to suit your taste.
8. Wheat Bread Sandwiches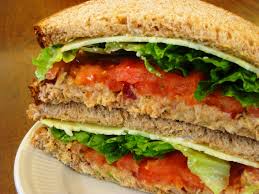 Everyone loves a good breakfast sandwich.  All you need are the following: Wheat or multi-grain bread, lettuce, tomatoes, chicken breast fillet strips and pickles. Of course, you have to stay away from heavy dressing and sauces. Keep your sandwich fillings low in calorie, but high in fiber and protein.
9. Green Salad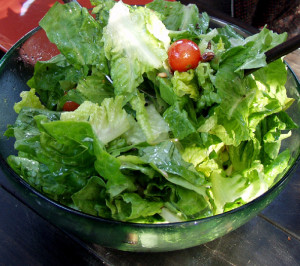 For people who like it light and healthy, a delicious green salad mix for breakfast is always the best! Mix the lettuce and other green vegetables you like with tomatoes, cucumber, carrots, pineapple, olives, and pickles. Just remember to stay away from the heavy dressing and fattening cheese. It is best to use olive oil, fruit juice or vinegar for your salad dressing.
10. Juice it!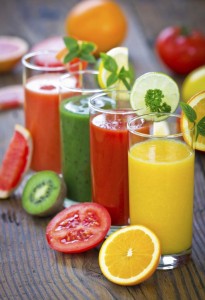 Another new way to enjoy nutritious vegetables and fruits is by juicing them. According to many health experts, nutrients are absorbed better by the body if the fruits and vegetables are in juice form. With a good juicer, you can have an all-vegetable or all-fruit juice mix for breakfast. You can also be creative and combine both to come up with something that is nutritious and fresh.
A healthy breakfast does not have to be boring or bland.  All it takes is a good knowledge of what is healthy and what is not. Add a little creativity and you can easily come up with many more healthy breakfast recipes that will suit your on-the-go lifestyle.