You can easily make your own homemade Halloween costumes for women. It's cost-efficient, creative and fun!
Halloween is the best time of the year wherein women can be creative and dress up to be anything or anyone they want to be. They can be someone sexy or scary depending on the costumes they wear. They can imitate their favorite cartoon character or a famous celebrity.
Buying a Halloween costume is not practical since they are expensive and you only get to wear it once a year. With a little creativity and ingenuity, you don't have to spend much or even at all.
Here are some homemade Halloween costumes for women you can make for yourself:
Sadako Yamamura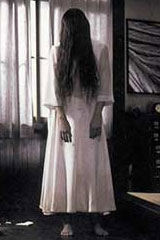 This cheap homemade Halloween costume is very easy and practical. All you need is an old, white night gown, makeup and talcum or white foundation.
Steps:
1. Put on your white night gown.
2. Whiten your face with lots of talcum powder or white foundation.
3. Add some eerie eye liner make-up and lipstick lines that look like blood running down your mouth.
4. Comb your hair down over your face.
5. Assume the Sadako Yamamura posture and you are ready to scare people at the party!
The Mermaid
Do you dream of being Ariel, the Little Mermaid? This Halloween costume is easy to make. All you need is a shiny blanket/cloth, net-like cloth, some sequins, needle, thread and some sewing skills.
Steps:
1. Invert the cloth material and wrap it around lower body.
2. Sew downwards making a mermaid tail shape.
3. Invert the material exposing the shiny part.
4. Add some fins by sewing the net-like cloth material to cover your feet.
5. For the top, get a brassier and creatively design it by pinning in some shells or shiny sequins.
The Witch
Here is another Halloween favorite among the homemade Halloween costumes for women. All you need is a black dress and a big pointy hat.
Steps to make a witch's hat:
1. Trace a big round platter over your cardboard.
2. Trace a smaller circle in the middle of the circle. Your head should be able to fit into this hole.
3. Follow the lines and cut out the circles.
4. Get another piece of cardboard and roll it into a cone.
5. Shoot the cone through the hole.
6. Tape or staple the cone in place to make your hat.
7. Cut out any excess cardboard.
8. Paint or design as you wish.
9. Put on your dress.
10. A little face paint or make up would help enhance your look.
11. Pick up your broom and you are ready to fly.
The Angel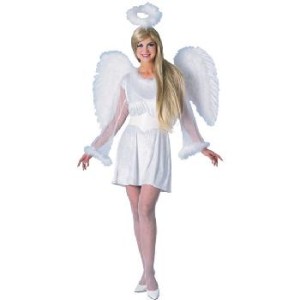 Here is another cheap homemade Halloween costume you will like. Make use of any long (or even short) white dress you have. Add a halo and some wings and voila! You're an angel!
Steps to make the Halo:
1. Get some wire and wrap it around a big milk can to make the halo shape.
2. Attach the extended extra wire to a used headband. Make the the Halo look like its floating over your head.
3. Wrap the round part with some white material (White fluffy towel or sock material will do)
4. Sew it on to make sure it doesn't fall off
Steps to make the Wings:
1. Fold the cardboard into two
2. Draw one wing on one side
3. Cut out the shape
4. Unfold the cut up cardboard and design your wings with some cotton
5. Attach some garter for your arm holes
6. Apply shimmery makeup
7. Put on your costume!
The Zombie
Join the living dead with just some old tattered clothes, and a paper mache mask.
Steps in making the mask:
1. Put petroleum Jelly on your face.
2. Cover your face with strips of paper for the first layer.
3. Add 4- 5 layers of paper strips using glue
4. Relax and let it harden for a while.
5. Be careful as you peel it off your face.
6. Use tissue paper and add 3 more layers with some more glue.
7. Shape your Zombie face while the tissue is still wet.
7. Let it dry.
8. Paint your mask with some poster color and let it dry.
9. Brush on some more glue over your mask to give it a shiny finish.
10. Punch a hole on both sides of the mask and attach two rubber bands for the ears.
Remember, you don't need to spend so much on a Halloween costume. Use your imagination and you may just come up with more homemade Halloween costumes for women.