Garlic Chicken and Shrimp Pasta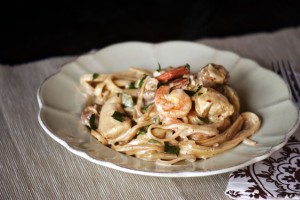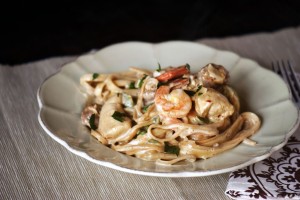 Ingredients:

8 ounces uncooked spaghetti 2 skinless chicken breast fillets 1 pound large shrimp, shelled and deveined 3 tablespoons butter 3 tablespoons olive oil 2 cloves garlic, minced 1 tablespoon chopped basil 1 tablespoon chopped parsley ½ teaspoon salt ½ teaspoon Creole seasoning

1. Boil 2 quarts of water. Add the pasta, a tablespoon of oil and a pinch of salt. Cook for at least 10-12 minutes or until pasta is al dente.

2. Place chicken pieces on wax paper and cover with another sheet. Pound them lightly until they have flattened evenly. Cut into 1-inch strips.

3. Melt the butter with olive oil in a large skillet. Sauté the garlic, basil, parsley, salt and seasoning in medium-low heat.

4. Add the chicken. Sauté for another 5 minutes. Add the shrimp and cook for 3 more minutes.

Serve with the cooked pasta. Top with fresh parsley.

These are just a few easy chicken recipes that you can cook on a busy weeknight or weekend lunch. Got your own recipe to share? We would love to hear from you!