Can't think of anything to cook for dinner? You don't have to be a gourmet chef to cook these irresistible chicken recipes for your man. Chicken definitely won't be just bland poultry after you've tried these! All recipes serve 2.
Quick Chicken Parmesan
Ingredients:

2 skinless chicken breast fillets ½ cup grated Parmesan cheese ¼ cup bread crumbs ½ tablespoon chopped fresh oregano 1 egg Dash of salt 2 tablespoons olive oil ½ cup shredded mozzarella cheese ¼ cup marinara sauce

1. Place chicken breasts flat on a sheet of wax paper and cover with another sheet. Pound the breasts lightly with a rolling pin until they are about 1/3 of an inch. Pat them dry with paper towels.

2. Combine the Parmesan cheese, bread crumbs and oregano in a bowl. Lightly beat the egg and salt in another bowl.

3. Heat olive oil in a large skillet over medium-high heat.

4. Dip the chicken in the beaten egg. Shake lightly and coat with the breadcrumb mixture. When the oil is hot, add the chicken and cook each side for 3-5 minutes until golden brown. Sprinkle mozzarella over the chicken pieces before removing them from the heat. Transfer cooked chicken to serving plates while you prepare the marinara sauce.

5. Warm up your marinara sauce in a small saucepan for 1-2 minutes. Once heated, spoon equal amounts of sauce over your chicken breasts.

Serve with a side of steamed vegetables for a light and healthy lunch.
Chicken Cacciatore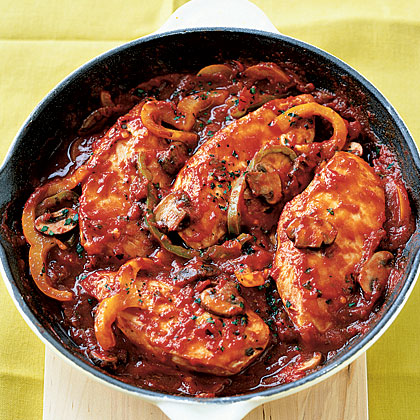 Ingredients:

2 skinless chicken breast fillets 2 teaspoons olive oil ½ teaspoon salt, divided 1/8 teaspoon ground pepper 1 small bell pepper, cut into strips 1 cup button mushrooms ¼ cup dry red wine ¾ cup tomato-and-basil pasta sauce 1 tablespoon chopped fresh parsley

1. Heat oil in a large non-stick pan over medium-high heat. Add the chicken and sprinkle ¼ teaspoon of salt and the pepper. Cook each side for 3 minutes. Transfer to a plate and set aside when done.

2. In the same pan, sauté the bell pepper and mushrooms with salt for 4 minutes. Add wine and cook an additional 2 minutes. Stir in sauce and heat through. Return chicken to the skillet and reduce to a simmer. Cook each side for 4 minutes. Top with parsley.

Serve immediately with buttered garlic bread for a satisfying dinner.
Buttermilk Roast Chicken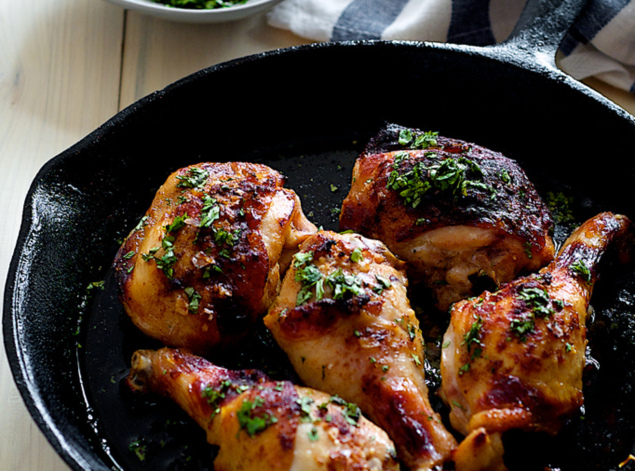 Ingredients:

1 pound chicken drumsticks 1 cup buttermilk 3 garlic cloves, peeled and smashed ½ tablespoon salt ½ tablespoon sugar 1 teaspoon ground black pepper 1 teaspoon paprika A drizzle of olive oil

1. Whisk together buttermilk, garlic, salt, sugar, paprika and black pepper. Place the drumsticks in a gallon-size freezer bag or lidded container, and pour the buttermilk mixture. Shake the bag lightly to cover the chicken parts. Refrigerate for at least two hours.

2. Preheat oven to 425 degrees. Line your baking dish with foil and arrange the brined drumsticks in it. Drizzle lightly with olive oil, and sprinkle with paprika and salt to taste.

3. Place in the pre-heated oven and roast for 30 minutes until brown.

Serve this with warm rice or steamed vegetables.
Asian Barbecue Chicken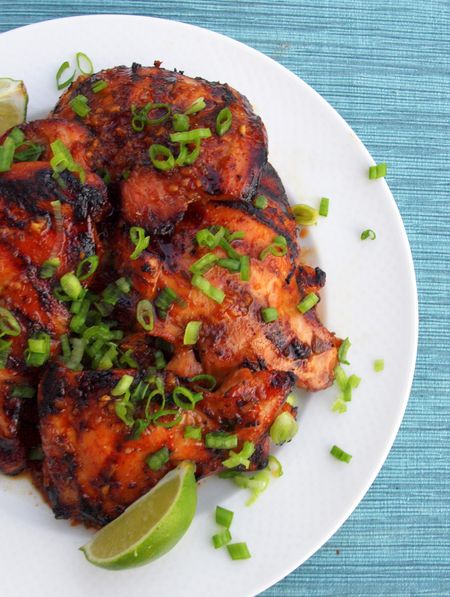 Ingredients:

4 chicken thigh fillets 1/8 cup brown sugar 1/8 cup soy sauce            ½ tablespoon fresh lime juice ¼ teaspoon red pepper flakes 1/8 teaspoon curry powder 2 cloves garlic, minced Lime wedges Chopped green onions for garnish

1. Mix sugar, soy sauce, lime juice, pepper flakes, curry powder and garlic in a bowl. Add the chicken thighs in the marinade and refrigerate for at least 4 hours.

2. Preheat your grill. Remove the chicken from the marinade. Put the remaining marinade in a saucepan and heat to a low simmer.

3. Grill the chicken for 20 minutes, turning over frequently and basting with the leftover marinade.

Top with more marinade, lime wedges and green onions. Serve with a salad on the side.
Garlic Chicken and Shrimp Pasta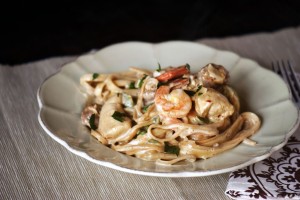 Ingredients:

8 ounces uncooked spaghetti 2 skinless chicken breast fillets 1 pound large shrimp, shelled and deveined 3 tablespoons butter 3 tablespoons olive oil 2 cloves garlic, minced 1 tablespoon chopped basil 1 tablespoon chopped parsley ½ teaspoon salt ½ teaspoon Creole seasoning

1. Boil 2 quarts of water. Add the pasta, a tablespoon of oil and a pinch of salt. Cook for at least 10-12 minutes or until pasta is al dente.

2. Place chicken pieces on wax paper and cover with another sheet. Pound them lightly until they have flattened evenly. Cut into 1-inch strips.

3. Melt the butter with olive oil in a large skillet. Sauté the garlic, basil, parsley, salt and seasoning in medium-low heat.

4. Add the chicken. Sauté for another 5 minutes. Add the shrimp and cook for 3 more minutes.

Serve with the cooked pasta. Top with fresh parsley.

These are just a few easy chicken recipes that you can cook on a busy weeknight or weekend lunch. Got your own recipe to share? We would love to hear from you!






Incoming search terms: