5. Don't skip meals.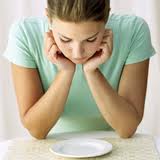 Skipping meals–especially breakfast–is a big no-no when you're trying to lose weight. Not only will you lose excessive muscles, but also turn your immune system vulnerable to infections.
Crash diets, for instance, can only result to temporary weight loss and potentially serious health complications. Make this your preferred way to lose weight and you'll end up getting more sick leaves, not to mention more fats, in the future.
To keep your body's metabolism in best shape, try to eat three regular meals a day and two nutrient-rich snacks.